Matilda Jr Production
5 Sep 22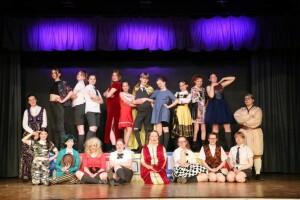 Matilda Jr returns the magic of musical theatre to the Settle College stage!
After a Covid-induced hiatus, the talented students at Settle College lit up the school stage once again in an energetic explosion of musical theatre earlier this month. The company, including students from Year 7 through to Sixth Form, delighted audiences at all three of their fantastic performances of Roald Dahl's Matilda The Musical Jr.
Poppy Tetley shone in the title role as Matilda Wormwood, a young girl who despite her neglectful parents manages to blossom under the guidance of her supportive teacher Miss Honey, played by Violet Hollings Kelly. Both gifted Year 7 actors were perfectly cast; they acted with confidence beyond their years and delivered beautiful vocals in their solos.
While her green-haired father Mr Wormwood (Natasha Hewitt) was pre-occupied with his dodgy car deals, and her dismissive mother Mrs Wormwood (Holly Brown) was only interested is her snake-hipped dance partner Rudolpho (Robyn Harrison), Matilda used her vivid imagination to tell mesmerising stories of The Escapologist (Gemma Tyrie) and The Acrobat (Isobel Tolson) to the enthusiastic librarian Mrs Phelps (Isla Paton).
Things were looking up for Matilda as she started school at Crunchem Hall and met her new best friend Lavender (Niamh Taylor). However, it soon became clear that her hammer throwing headmistress Miss Agatha Trunchbull (Isaac Wiggins) ruled with an iron fist, keeping the maggots in line with the threat of a trip to Chokey. Isaac owned the role, and his portrayal was both terrifying and comedic in equal measure. From aggressive threats and whistle blowing to graceful ribbon twirling, he embodied the terrifying Olympic-champion, turned child-hating headteacher, and had the audience in stitches.
Another notable performance was Aaron Hird as the cake-snaffling Bruce Bogtrotter who also faced the wrath of Miss Trunchbull. But he and Amanda Thrip (Lottie Oliver) – whose pigtails led her to experience first-hand the head teacher's hammer throwing skills – along with the rest of the cast of Revolting Children: Aimee Allen, Felicty Beckett, Elsa Burke, Heidi Busfield, Tabitha Brown, Kora Higginson, Emily Scott and Minnie Trotter, emerged triumphant when Matilda used the power of her mind to defeat Truchbull once and for all. The strong ensemble who multi-rolled a number of different characters were particularly slick in the big musical numbers such as School Song and Miracle; their harmonies were excellent and the choreography was fast-paced and impeccably timed.
Off stage, Tegan Bishop is to be commended for her outstanding work as Sound Technician. While the stage crew made up by Sophie Cooper, Hazel Gowland and Anna Murray should also be applauded for their diligent work behind the scenes creating the set, with additional help from Raven Coward and Willow Coward who also made valuable contributions as part of the costume team.
This was the first time that Drama Teacher Paula Griffiths and Helen Robertson, Music Teacher and Head of the Faculty of Creative Arts, had teamed up to produce a school musical at Settle College. But both agreed that the students had worked incredibly hard to achieve a show of such a high standard, especially considering that for some students this was their first experience of a school musical, and that even those who had performed before had not done so for a very long time. Matilda Jr has set the bar high for the standard of school shows returning to the stage at Settle College, and both staff and students can't wait to get started on the next one!