Transition to Settle College
At Settle College we know some students (and parents!) will feel apprehensive about transition to secondary school.
We will be updating this page as we approach transition, with useful information for our incoming students and their parents.
We're really looking forward to meeting you!
Using our Virtual Tour below, you can explore the school remotely!
Key Dates:
4th July 2023: Transfer Evening (for Parents and Students) at 6pm
5th July 2023: Transfer Day 8.35am-3.20pm (Students travel on the school buses and attend Settle College for the day)
14th – 18th August 2023: Summer School
6th September 2023: First day of term
Letters:
You will receive more information about transition in 2023.
Parent and Student Welcome letter  – March 2023
We will write soon about Summer School 2023. Below is last year's letter, for your information.
2022 Summer School final details – Details from last year
Summer School:
We are delighted to announce we will once again be running our popular Summer School for year 6 students in summer 2023.
This is a valuable opportunity run by our own staff, allowing our prospective Year 7s to meet new friends, familiarise themselves with the school site and some of the staff, and ask questions about what to expect in September. Students can choose to attend specific days if they don't want to commit to a full week, although we often find that they enjoy themselves so much, they end up asking to stay!
Information around how to book will be shared with year 6 parents soon.
Here are some letters written by Year 6s about their experience at Summer School: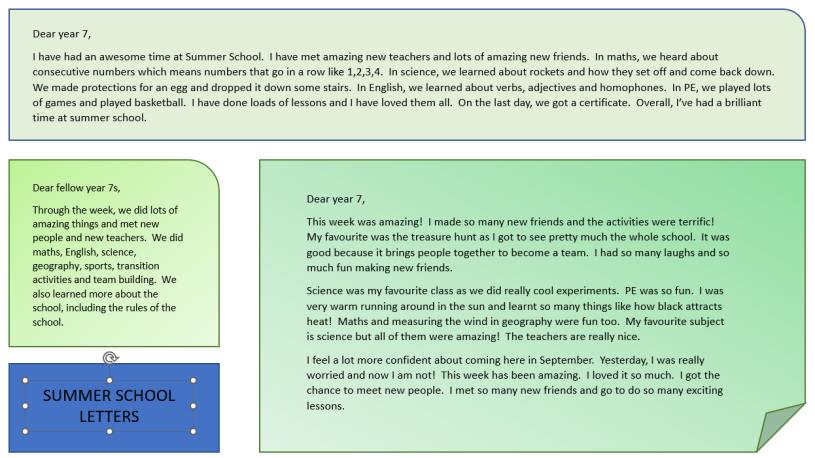 New Year 7 Open Evening - 5th October 2023 from 6-8pm
Sixth Form Open Evening - 16th November 2023 from 6-8pm