GCSE Results 2020
No performance measures are to be published by the DfE for 2020, so for further detail, please see information regarding the 2019 results, below.
 In 2020, despite very turbulent times, we were awarded GCSE results we were very proud of, as they represented fantastic student progress during the past 5 years. We were very mindful of the fact that the examination boards made it very clear that our Centre Assessed Grades must be evidence based, with the requirement to provide the evidence should it be required. The results achieved by the students were therefore earned and a testament to their hard work and dedication. Of particular note, were students who achieved grade 7 or above across a suite of up to 12 subjects. It has not gone unnoticed that these students clearly have dedicated many hours to achieving this level of success and their mock preparation clearly served them well. 
Congratulations

 to all for their calm and mature approach to a difficult last few months of GCSE study.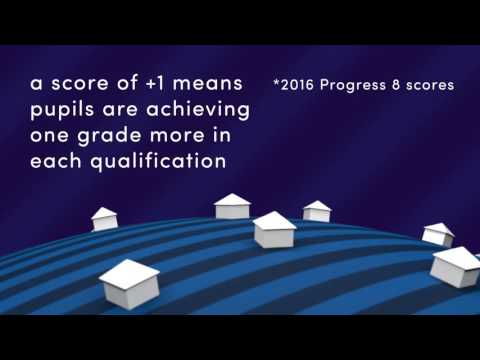 The new Progress 8 measure explained in 3 minutes
GCSE Results 2019
After the success of last week's A Level results Settle College were delighted with another great set of GCSE results. 7 students received the top grades (7 or above) in every single subject. This constitutes more than 8% of the cohort. 3 of those were boys, which bucks the national trend this year.
Rosie Pettifer who achieved nine qualifications at grade 9 and two at 8 grade said,' I'm really happy and shell-shocked. I would like to thank all my teachers for their support, encouraging and inspiring me to succeed since Year 7.' Rosie is continuing to study at Settle College, taking maths, physics, geography and further maths. Elliot Belt has an apprenticeship locally in Joinery and shall study at Craven College, he thanked staff for the extra support lessons to ensure he achieved his best.
The overall feeling from students was that of delight and euphoria, with a large cohort staying on to study at the College in Sixth Form, whilst others have a wide variety of other courses they are going on to study and apprenticeships, heading out to Leeds College, Burnley College and Kendal College.
Headteacher, Gareth Whitaker, said 'We are so proud of the students who received their GCSE results today, the satisfaction of their hard work is telling, showing a level of success through their determination and resilience. Students at both ends of the ability range have performed particularly well and have exceeded national expectations of expected progress. That is also the case for those students who have experienced difficulties during their school years. We take great pride in being able to meet the needs of all of our students.
These results reflect the high standards of learning and teaching at Settle College and the hard work and dedication of staff, students and their families.  We are delighted that many of our students will continue their studies into the Sixth Form, but we also wish those students going onto College courses and apprenticeships every success for a very exciting future'
2019 figures will be published once released by the Dfe
Headline figures below:
| | | | | |
| --- | --- | --- | --- | --- |
|  Measure |  2018 |  2017 |  2016 |  National |
|  Progress 8 |  0.15 |  0.48 |  0.55 |  0 |
|  Attainment 8 | 46 |  50 |  55 | 44 |
|  'Strong Basics' (English & maths 5+) |  34% | 45% | N/A | 40% |
|  EBacc (average points) | 3.83 | N/A | N/A | 3.83 |
|  Average Number of qualifications: | | | | |
|  – Counting in the Performance Tables |  9.3 | 10.9 | 10.7 | N/A |
|  – Undertaken by students | 10.8 | 10.9 | 10.7 | N/A |
'A' Level Results 2019
Another year of excellent academic results and personal achievements in Sixth Form.  Many students achieved the top grades of A*, A and B with a 99% A*-E pass rate.
The majority of exam entries were in the A Level facilitating subjects, but as an inclusive comprehensive Sixth Form performance was also strong in vocational subjects, with excellent results in Business.  Notable successes at A level were in Art with 100% A* – B. In Geography 85% of students achieved A* – C and  100 % A* – C in History.
Katharine Tarbox, deputy head girl who achieved an A* in English Literature, an A in Drama and an A in French, said, ''I am so pleased with the results I have achieved and to get into my first choice university, the hard work I have put in and the support and help from my teachers has all paid off."  Katharine is going on to study English Literature at the University of Edinburgh following a gap year.
Jack Pinder, deputy head boy achieved an A in Geography, A in Sports Studies and Distinction* in CTEC Business. Having formerly questioned whether to do A levels he has shown how hard work and determination pays off. He goes on to study Real Estate at Nottingham University and regardless of his unconditional offer has shown tenacity in achieving excellent outcomes.
Jack Burgoyne, who achieved an A in Chemistry and B grades in Physics and History, is going on to study Chemistry at Loughborough University, said, "Settle College has been fantastic over the past 7 years. The staff have always supported me and helped me to achieve my best; I shall cherish the memories I have made here and am looking forward to the next step in my education".
Headteacher, Gareth Whitaker, said, 'We want to congratulate all students who received their results and wish them every success in their future studies and careers. Students are going on to study a multitude of courses including, Building Surveying, Primary Education, Natural Sciences, International Relations and Politics, Aviation Management, Nursing, Forensic Science, Palaeontology. These results demonstrate the outstanding efforts of both students and staff. We are also proud that our students contribute to the wider life of the school and the community. The skills they have learnt during their time at Settle College will be invaluable as they move on to new and exciting challenges ahead.   It is always a real pleasure to see such happy faces on results day.