Examination Results 2020-21
No performance measures are to be published by the DfE for 2020 or 2021, so the results displayed here continue to be from 2019, as the last year with formal external examinations.
Over the last two academic years, students have had significant disruption to their education as result of COVID-19.  Despite this, our students have shown great resilience to continue with their studies and to achieve examination results of which they can be exceptionally proud and reflect the hard work that they have put in to achieving these qualifications.
 A-Level Results 2021
Settle College is pleased to report some outstanding achievements by its students in their A levels and vocational qualifications. Jordan Eyles had already achieved grades A in Chemistry and Physics and grade B in Mathematics in 2020 but after a career change of heart, he came back to Settle College to study Biology in a year. He gained an A* and is going on to study Biology at Lancaster University from September. Emma Dunkley achieved 3 grade A's in History, Maths and Psychology, she is going to read Law at Exeter University. Thomas Oxley achieved A* in Chemistry, Mathematics and Physics and an A* in his Extended Project. Thomas is studying Computer Science with a year in industry at University of Sheffield. Our outgoing Head Girl Rosie Pettifer, is to attend the Leeds College of Art. She gained A* in both Fine Art and Physics and an A in Mathematics. In 2020 she achieved an A* in her EPQ project. Thomas Dale has gone on to achieve A* grades in Chemistry, Mathematics and Physics and a Distinction* in his Engineering. Thomas is planning on studying Aeronautical and Aerospace Engineering at the University of Leeds. Emma Howarth, an outgoing Year 13 student that is set to undertake a degree in Primary Education, said, "Settle College has always supported me, I am thrilled with my results and can't wait to go to University. I am so glad I chose to study at Settle". Jasmine Hruby Horn, a student who only joined us for Sixth Form, said "I felt instantly at home and fit right in from my first day". 92.3% of applicants were accepted at their first-choice university with 42% of applicants gaining entry to a Russell Group or top 10 universities.
GCSE Results 2021
Fantastic outcomes have been achieved across all subjects a GCSE level – the sciences, English, maths, arts, languages and humanities, with several standout performances from individuals. Tabitha Brown achieved all grade 9s this summer at GCSE. She is going on to study A levels at Settle College. Daniel Craig achieved grades 8 and 9 in all but one subject. Other students have gone above and beyond in the face of adversity to overcome struggles in their lives and achieve top grades, a real testament to themselves and the care and support provided. 'All of the staff have been really supportive through difficult times. I am happy with my results' said Billy Arber who achieved all grades at 7 and above. Another student quoted 'Settle College, a school I will remember for being one of the most incredibly supportive environments, so much so that my outcomes would not have been where they are without the teachers and staff that supported me'
Progress 8
One of the key measures for schools' performance is the Progress 8 measure.  This judges the progress that students make at secondary school, taking into account their starting point from their KS2 SATS.  For more information on this, please see the video below.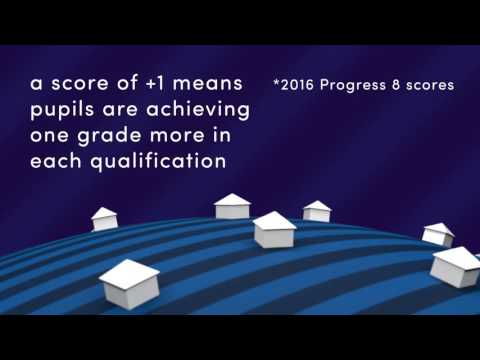 The new Progress 8 measure explained in 3 minutes
League Table
The DFE league table information for Settle College can be found by following this link:
https://www.compare-school-performance.service.gov.uk/school/121689
Past GCSE Results
The table below shows the headline figures from the GCSE results from the external formal examinations for 2016-2019.
| | | | | | |
| --- | --- | --- | --- | --- | --- |
|  Measure | 2019 |  2018 |  2017 |  2016 |  National |
|  Progress 8 | +0.13 |  +0.15 | + 0.48 |  +0.55 |  0 |
|  Attainment 8 | 44.3 | 46 |  50 |  55 | 44 |
|  'Strong Basics' (English & maths 5+) | 29% |  34% | 45% | N/A | 40% |
|  EBacc (average points) | 4.01 | 3.83 | N/A | N/A | 3.83 |
|  Average Number of qualifications: | | | | | |
|  – Counting in the Performance Tables | 8.6 |  9.3 | 10.9 | 10.7 | N/A |
|  – Undertaken by students | 8.6 | 10.8 | 10.9 | 10.7 | N/A |