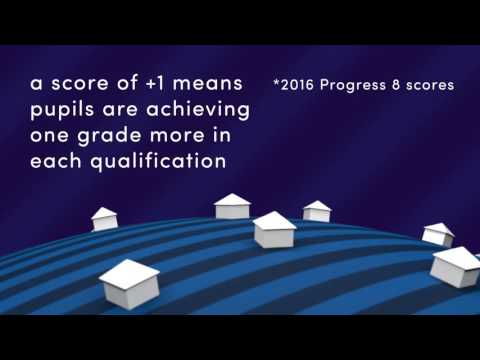 The new Progress 8 measure explained in 3 minutes
According to the DFE website, there is no better performing similar school that is within a 75 mile radius of Settle College.  We are placed 4th out of 55 similar schools nationwide.
The DFE league table information for Settle College can be found by following this link:
https://www.compare-school-performance.service.gov.uk/school/121689
GCSE Results 2017
Many congratulations to the Year 11 students who have navigated turbulent changes to GCSE with determination, resilience and good humour.
Please note that with the introduction of a new grading system, results are incomparable with previous yeas.
2017 Headline News
Settle College exceeded all reported national GCSE figures (England).  That is in all the following categories:
| | | |
| --- | --- | --- |
| |  Settle College |  National |
|  Progress 8 |  +0.49 |  0 |
|  Attainment 8 |  49.6 |  44.6 |
|  Grade 5+ in English and Maths |  45% |  39.6% |
|  Achieving EBacc at 5+ |  28% |  19.7% |
|  Entering EBacc |  42% |  35% |
Particularly pleasing was that these national benchmark figures were all exceeded by both males and females.
2017 Key Achievements
• Of particular note is our Progress 8 score of +0.49. This means for the second year running, students at Settle College perform at half a grade better, per subject, than those with a similar secondary school starting position.
• The figure of +0.49 is just 0.01 away from the DFE's top classification of 'well above average'.
• A progress 8 score of +0.49 is better than:
More than 75% of schools rated 'outstanding' by Ofsted,
Over 95% of schools rated 'good' by Ofsted.
• We are particularly proud of the consistently strong progress made by all of our 'groups' of learners. This level of consistency is much sought after and rarely matched.
Progress 8 Scores
Overall                             +0.49
Boys                                 +0.47
Girls                                 +0.5
Disadvantaged               +0.55
High prior attainers     +0.42
Middle prior attainers  +0.58
Low prior attainers       +0.37
Sustained Improvement in GCSE Results Recognised in the House of Commons
We had the honour of being one of 12 secondary schools in the north of the country who were asked to write an article for The Education Parliamentary Review.  This booklet was launched at a gala reception at the House of Commons on Friday 23rd September 2016 and sent to every secondary school in the country.
Destinations
100% Education, Employment or Training
 'A' Level Results 2017
29.4% of our A Level passes at the two highest grades of A* and A we comfortably outperform the national average of 26.3%, while our over all high grade attainment (A*-C) has at a mean of 81% over the last three years remained well in line with the national average of 77.4% for all schools. This year has seen students heading to Oxford to study Biochemistry, Leeds University to study Midwifery, Loughborough to study Product Design Engineering to name a few with 92% achieving their first offer, up 4% on last year with 36% attending a Russell Group University up 8% on last year.